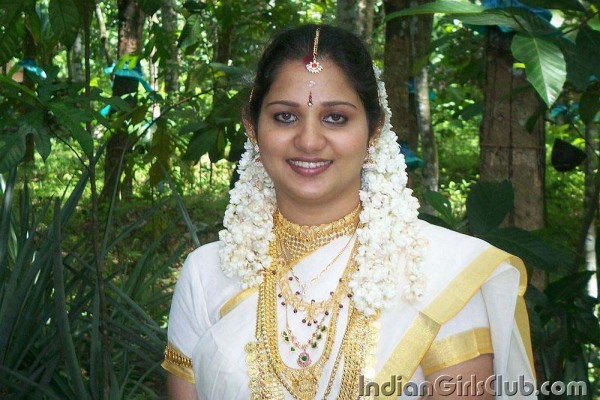 Kerala marriages are very traditional like the one of tamil marriage ceremonies. But the nair weddings in kerala are the simplest. The bride changes 3 bridal costumes in less than an hour for the marriage. And shopping for these dresses and bridal costumes takes a long time no-one can imagine.
On the first picture is a keralite bride in Set-Saree, which is a traditional women-wear for kerala girls, who are also known as mallu girls. The third photo describes the cost for a marriage in kerala, for the gold and diamond jewelleries, expensive silk-sarees.
The marriage ceremony in kerala takes place in a temple or in a wedding hall known as Kalyana Mandapa. In the second pic, you can see the bridegroom ties the Thaali, known as Mangalsutra, when the astrologer says at Muhurtham, meaning this is the good time for Talikettu. Another best part you will love in a keralite marriage is Sadhya, a typical kerala food after the wedding rituals served with rice, pickles of three varieties, sambar, avial, curries, sweets, toran, olan, pacchadi, kalan, paddads, payasam served on plantain leaves. Never miss a kerala matrimonial.